Cocktail Making
Hi everyone, and welcome back to my blog. Today I thought we could talk about one of my other (rather than off roading) all time favourite hobbies, drinking (though not to be done at the same time!). Not just any drinking mind you, and it's not really the drinking part which I thoroughly enjoy – although obviously the end result of drinking does make this hobby even more appealing. Cocktail making. Over the last few years cocktail making has been on the decline with craft beers being the fashionable drink of choice. Not anymore. Whilst the popularity of microbreweries and craft beers are going nowhere, there has been a dramatic increase in the amount of micro distilleries and craft spirits.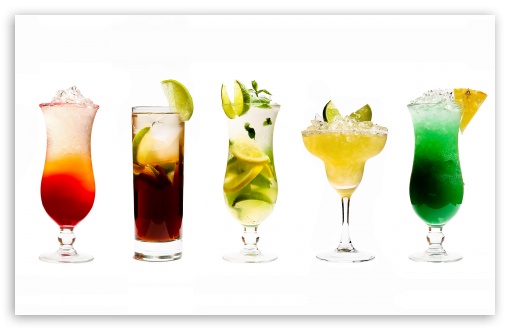 Learning how to make cocktails could not be simpler, and there's 2 routes you can go down. The easiest, and cheapest (in the short run) way, would be to look online for a cocktail and mixology class, where you can learn all the 'tricks' of the trade from mixing to muddling and stirring to shaking. The second way requires more independence, but in my opinion is the more fun way of the two, and that is learning how to do it yourself at home, preferably with a group of friends and each bringing a spirit or two. It's more expensive to set up, but you get to drink all the cocktails you want, and you'll have your own supplies. The first items you will need are a cocktail shaking set, this should include the shaker itself, a stirring spoon and a muddler. You will also need the correct glasses, a jigger (to measure the volumes) and spirits and mixers, which we will talk about later. Other useful items to have in your bar area include a Julep or Hawthorne strainer (used when straining a cocktail from your cocktail shaker), corkscrew, a citrus press, a paring knife (for cutting limes, lemons and other fruits or vegetables). Depending on which drinks you will be making, depends on what glasses you will require. If you will be making short drinks such as Old Fashioned, Whiskey or Amaretto Sour you will require a lowball glass or Old Fashioned glass which should be between 6 oz and 10oz. For long drinks such as a Tom Collins, a Mojito or even a Gin and Tonic will go in a highball glass, these should be between 12 oz and 16 oz. And then if you would like to make traditional cocktails such as a Cosmopolitan, Manhattan or a Margharita then you will require the traditional cocktail glasses, although you can use a martini glass instead. Other useful glasses to keep on hand would be champagne flutes and wine glasses.
Spirits you'll need to buy
- Gin
- Bourbon Whiskey
- Scotch Whisky
- Tequila
- White Rum
- Dark Rum -
- Vodka
Mixers you'll need to buy:
- Soda Water
- Ginger Beer
- Fresh fruit juices such as orange, apple, grapefruit, tomato or pineapple
- Simple Syrup (http://allrecipes.com/recipe/20216/simple-syrup/)
and depending on the types of cocktails you prefer
- Coke / Lemonade or Sprite
- Tonic water
Garnishes to have on hand
- Lemons, limes, oranges
- Sugar cubes
- Basil or Mint (growing your own plant guarantees you should always have some on hand when you need it last minute)
- Olives / Onions for martinis
- Celery salt / Horseradish / Salt and Pepper / Tabasco for Bloody Marys or Ceasers
Now once you've got your bar fully stocked, and you have all your equipment its time for the fun part. Making the cocktails.
Mojito (Highball Glass / Cocktail shaker / Muddler)
- 50ml White Rum
- 25ml Simple syrup
- Half a squeezed lime
- 4 mint sprigs
- Soda Water
- Crushed ice
Add the lime juice, mint leaves and the rum to the cocktail shaker. Use the muddler to get the flavour out of the limes. Pour into your glass, and fill with crushed ice. Add the soda water, and stir together. Top with an additional sprig of mint if you're feeling fancy.
Dark and Stormy (Highball Glass / Cocktail shaker)
- 50ml Dark Rum
- 1 squeezed lime
- Ginger beer
- Ice cubes
Mix the rum with the lime juice in the cocktail shaker and shake, top with ginger beer. Add ice to glass, and pour mix over.
Martini (Cocktail glass / Cocktail shaker)
- 50ml Gin or Vodka
- 25ml dry vermouth
- Crushed ice
- Ice cubes
Fill cocktail glass with ice to cool down. Fill cocktail shaker with ice and cold water so it cools down. Throw ice water away and add gin and vermouth and more ice. Stir until some of the ice has melted and the martini is to our taste. Throw ice out of cocktail glass and pour the mix into it. Top with your favourite garnish.